Eau Thermale Avène D-Pigment Brightening Serum
Hot
April 05, 2018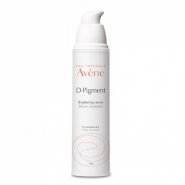 Product Info
Where to Buy:
Available at Clicks and Dis-Chem stores countrywide. RSP: R399.95 | 50 ml
Eau Thermale Avène is Europe's No.1 dermo-cosmetic brand. It has introduced a specialised range of products formulated to address uneven skin tone and dark spots. The D-Pigment range soothes the skin, helps reduce the appearance of existing dark marks and prevents new dark marks from forming thanks to powerful, ingredients with proven efficacy.
This light, non-greasy serum is highly concentrated with active ingredients to keep your complexion clear, radiant and even-toned. The product not only reduces existing dark marks, but also prevents new dark marks from forming. Fragrance-Free. Highly Tolerated.
BRIGHTENS Surface Effect: Ascorbyl glucoside (stabilised Vitamin C) protects melanin from oxidation and contributes to excess melanin removal by boosting cellular renewal.
COMBATS DARK SPOTS In-depth Effect: Myrtle (plant extract) with free radical fighting properties, protects melanin from oxidation and regulates melanin production.
SOOTHES Rich in Avène Thermal Spring Water with natural soothing properties.
DIRECTIONS FOR USE
Apply to the face and neck in the morning followed by a broad-spectrum sunscreen of at least SPF 30-50.
For best results, apply again in the evening followed by Eau Thermale Avène D-Pigment Dark Spot Corrector (Light or Rich).
User reviews
DE-Pigment MUST -HAVE 1
I have been using this product for almost a month and have definitely seen a lightening in my pigmentation spots and an overall clarity in my skin complexion. The process (de-pigmenting) has also made me more regimental on sunscreen, which I apply after I have applied my D-Pigment Brightening Serum in the morning. I can highly recommend Avene Sunscreen SPF 50 as a choice. I love that all the products have the benefits of the powerful Avene Thermal Springwater from France.
Product Recommendation
Would you recommend this product to someone else?
Yes
Would you repurchase this product?
Yes
Was this review helpful to you?