POND'S Pimple Clear Micellar Range
Hot
December 18, 2019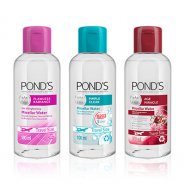 Product Info
Where to Buy:
Available from all leading retailers nationwide.
POND'S Micellar Minis can be used as a makeup remover, a pre-cleanser, or occasionally in place of a cleanser. They are everything you've come to know and love about your POND'S Micellar Water cleansers just in travel-size – meaning you can take your skincare with you wherever you go!
Whether you're jetsetting to far-away lands or enjoying a staycation, POND'S Micellar Minis are ready to go whenever you are – allowing you to re-energise, refresh, and revitalise your skin on the go. You can now remove makeup after a long flight/road-trip and freshen up on the move – no rinsing required!
POND'S Micellar Minis are available in three variants, each tailored to suit your skin's unique needs: