POND'S Pimple Clear Micellar Range
Hot
December 18, 2019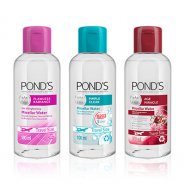 Product Info
Where to Buy
Available from all leading retailers nationwide.
POND'S Micellar Minis can be used as a makeup remover, a pre-cleanser, or occasionally in place of a cleanser. They are everything you've come to know and love about your POND'S Micellar Water cleansers just in travel-size – meaning you can take your skincare with you wherever you go!
Whether you're jetsetting to far-away lands or enjoying a staycation, POND'S Micellar Minis are ready to go whenever you are – allowing you to re-energise, refresh, and revitalise your skin on the go. You can now remove makeup after a long flight/road-trip and freshen up on the move – no rinsing required!
POND'S Micellar Minis are available in three variants, each tailored to suit your skin's unique needs:
User reviews
Ponds micellar water review
I also use it as a toner. Which helps remove dead cells on my face before going to bed. It keeps my skin youthfull
Product Recommendation
Would you recommend this product to someone else?
Yes
Would you repurchase this product?
Yes
Was this review helpful to you?