Estee Lauder Gentle Eye Make up Remover
Hot
July 11, 2013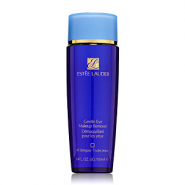 Product Info
Where to Buy
Edgars Foschini Stuttafords All products are found in the beauty section of these stores, estee lauder has their own section. Their reps are friendly and most knowledgeable in giving advice.
Estee Lauder Eye make up remover makes removing eye make up from a night out a breeze. It is gentle on the skin, causing no red eye irritation after application. It is oil free and fragrance free, and ensures a thorough clean finish. It is so important to remove eye make up at the end of the day both health wise and because of the staining caused. Your eyes are just as exposed to the environment as your skin, and foreign particles caught in the eye make up can lead to infections. Do not be fooled- Eye make up does not come off after you shower- majority of the eye make up just smudges over the entire eye.

Take a cotton swab and dab some eye make up remover over the edges of the swab and allow to sit gently over the eyelid- if you want to remove eyeliner- for a minute and wipe away to the outside of the eye. Go in one direction only from the inner to the outer. Repeat with clean swab over the eye lid if you have eye shadow on.

Estee Lauder eye make up remover is effective so not much solution needs to be used. Definitely a product to invest in.

User reviews
Estee Lauder Gentle Eye Make up Remover
Another fantastic product from Lauder. I really like this one!

It doesn't really have a fragrance, which is great, because we should keep it simple when it comes to our eyes.

However, the formula is phenomenal, because it is a lot like water. Except it removes eye make-up gently and effectively.

It does not dry out the gentle skin around my eyes and it does not leave any residue. It doesn't leave me blind like some others I've tried.

Well worth the splurge in my opinion!
Product Recommendation
Would you recommend this product to someone else?
Yes
Would you repurchase this product?
Yes
so gentle and effective.
So gentle and effective and by far one of the best I've used . I'm not shy about applying dollops of make up on especially eye make up and everyday for that matter so I need a make up remover that is kind to my eye area as well as good at its job. This product more than qualifies as the perfect eye make up remover in my books..

Not only am I getting squeaky clean results but I'm also left with a refreshed eye area minus any irritating that other brands left me with.

Holy grail status.

.
Estee Lauder Gentle Eye Make up Remover
Estee Lauder's Gentle Eye make Remover is definitely a worthwhile product to invest in. So gentle and yet so effective. A most thorough clean finish and removes just any colour eye make up. Eyes feel refreshed and ready to take on the next day's colour palette.