The Body Shop - Passion Fruit - Body Wash
Hot
July 17, 2014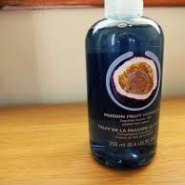 Product Info
Where to Buy
The Body Shop and Clicks
A delicious smelling body cleanser guaranteed to leave you feeling gorgeous.
User reviews
I'm passionate about this
Body Shop products are very reasonably priced, especially for such good quality products.

- Smells a-maze-ing!!!
- love it, moisturizing
- not sticky at all
- my only problem with cleansers that have sulphate / foaming agents is they usually make me itchy
Product Recommendation
Would you recommend this product to someone else?
Yes
Would you repurchase this product?
Yes
Passion fruit shower gel
The original price is R90. The scent is amazingly refreshing and is ideal for hot summer days. There was nothing special about this shower gel. Being a soap-free cleanser, it did not dry out my skin.
GRANADILLA GLORY
I absolutely love Body Shop products but they are a bit pricey. I bought this when it was on special and it is so yummy and delicious that I may splurge and pay the full price in the future! It does not contain soap so your skin doesn't get dried out and the smell stays with you for ages.