Mrsmac
Hot
March 19, 2012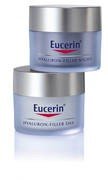 Product Info
Where to Buy
Was sent to me for testing and review
Eucerin Hyaluron-Filler Day cream for dry skin and Night cream
User reviews
I received Eucerin Hyaluron Filler Day and Night cream to review. What a difference! I have only been using the creams for a week now and can already see the difference around my mouth where I had deep grooves.
It is really filling up all the deep lines and I can hardly see the wrinkles around my eyes. I am sure that with time
and Eucerin Hyaluron Filler cream I will be as good as new! Thank you for allowing me to test this wonderful product. I would have liked to find out if there is an eye cream that goes with the day and night cream as I have slight bags under my eyes in the mornings. I am sure if you have the same product for eyes it will complete the picture. Have a lovely rest day on Wedneday!
Was this review helpful to you?