My Skin Cooling Eye Roll-On
Hot
November 05, 2012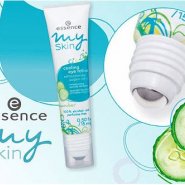 Product Info
Where to Buy
Clicks and Dischem
My Skin Cooling Eye Roll-On
User reviews
This little tube of gel is 100% alcohol and perfume-free. It has no scent whatsoever which I know is a big selling point for many ladies. The cucumber extract is meant to reduce puffiness and create a more 'awake' look. As much as I like the the whole idea of this product I have a few issues with it.

This squeezy tube has a metal rollerball attached to the end of it and this is what creates the 'cooling' effect. I put this on before I apply makeup and it creates a nice moisturising base for concealer. However, I'm not sure if I've seen it counteract signs of fatigue or puffiness (but not really something I have a problem with anyway). But my main issue is the metal rollerball, for some reason I can't tolerate the way it feels on my skin. I can't quite explain it, but it's clearly only something I experience so don't let that put you off. The good news is that I can squeeze the gel onto my finger and apply it like that.
Was this review helpful to you?
I've never been a firm believer in these types of products - I don't know why but I've always been apprehensive. It's probably just one of those irrational mental blocks people tend to develop with certain products. But I am eating my words now! This is an absolute must for anyone who battles to wake up in the morning because the cooling affect of the cucumber infused moisturiser makes me feel incredibly refreshed. After a few days I noticed the area around my eyes looked and felt firmer and the tone of my skin looked more even. I don't ever really battle with puffy eyes so I can't comment on the effectiveness in that regard, but I do battle with dehydration lines around my eyes and this product helps to get that much needed moisture into that area. Another thing I really love is that you can apply this any time of the day when you need a bit of a lift - even over makeup! This product is a gem!
Was this review helpful to you?