Eucerin UreaRepair Plus Handcream
Eucerin UreaRepair Plus Handcream
Hot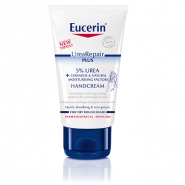 Eucerin UreaRepair Plus Handcream a long lasting cream for dry and rough hands. It's non-greasy, strengthens the skin barrier and contains natural moisturising factors.
User reviews
Not really 48hr hand cream
I got this to use everywhere actually, not just a hand cream. It is quite nice and moisturizing, what with all the covid hand washing going on.

What I like about it:
Absorbs easily
Gives instant relief to get rid of that dry feeling
Non greasy feeling

What I don't like about it:
It is very expensive for a smallish tube. R200!
You need to use a lot at a time, a little does not go a long way.
There is no way it provides 48hr moisture. Areas other than the hands, only remained moisturised for around six hours at best.
It smells quite strange. I get fragrance free, but surely there is something natural that could assist in this getting a more pleasant fragrance.
I feel like it could have a slightly higher urea %.


Product Recommendation
Would you recommend this product to someone else?
No
Would you repurchase this product?
No