Eucerin 50+ Sun Fluid Anti Age
Eucerin 50+ Sun Fluid Anti Age
Hot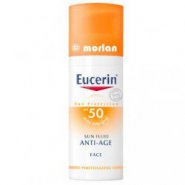 The Eucerin Sun Fluid Anti-Age SPF 50 is a high factor daily anti-ageing sun protection for all skin types, including sensitive skin, which protects facial skin from sunburn and sun-induced skin damage.
User reviews
So here's the thing about this product, strictly speaking it contains no 'anti-aging' ingredients BUT obviously the fierce protection from sun damage ensures that you will be saved from premature wrinkles, sun spots and discolouration.

I found this very gentle on the face which is great and although it applied like a regular sunscreen (a bit thick and quite sticky) it didn't clog my pores at all. I also wear it under my foundation daily and it doesn't interfere with my makeup application at all (hallelujah!).

I think if you are conscious of sun damage you should look into this product as it doesn't get much higher than factor 50:)
Product Recommendation
Would you recommend this product to someone else?
Yes
Would you repurchase this product?
Yes