My Natural Hair Strengthening Oil
Hot
January 18, 2017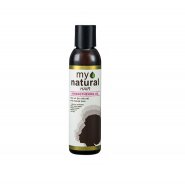 Product Info
Where to Buy
Online at http://mynatural.co.za/products/ for R79.99 as well as Clicks Pharmacies nationwide.
As part of My Natural's natural hair care products, the Strengthening Oil is formulated with a blend of sunflower, castor, grapeseed, avocado, sweet almond and olive oils  to seal in moisture and soften hair.
It will assist in stimulating healthy hair growth, adding shine and reducing frizz.
Free from: Sulphates, Parabens, Phthalates, Petroleum, Mineral oil.