Dark and Lovely Go Intense in Dazzling Brown
Hot
August 03, 2013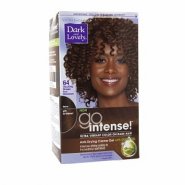 Product Info
Where to Buy
Go Intense! is our first intensifying hair color line precisely calibrated to work with the natural undertones of dark hair to deliver high reflective color and intense shine. Offered in 7 sizzling shades: Super Black, Radiant Copper, Spicy Red, Golden Blonde, Magic Plum, Dazzling Brown, Original Black.
Get intense color results with perfectly balanced color dyes that deliver intense visible high reflect on dark hair.
User reviews
Dark and Lovely Go Intense in Dazzling Brown
Please open the pic to see the full size. I'm not sure why it's not showing properly. Also the colour is lighter than on the pic as that was taken at night :-D
Was this review helpful to you?
Dark and Lovely Go Intense in Dazzling Brown
I bought this product when I desperately needed to colour my hair but was very very strapped for cash. At R19.99 I think this is the most affordable hair dye on the market. My friends were so sceptical and thought my hair would burn or fall out but I was and still am impressed that a product so cheap can be so effective. I usually colour my hair a dark brown but I decided to go for a lighter colour for a change. One box is enough for my shoulder length fine hair but any longer and any thicker hair should buy 2 or 3 boxes. When I applied the product I was already put at ease because there are no harsh ammonia smells and it absorbed well into my hair. I was even more happy when I washed it out and my hair was soft and managable and not at all dry and sticky. The pic I've posted is testament to this.

I simply love this colour. I've dyed my hair for the 2nd time with it and I have ONLY ONE complaint. It doesnt cover my greys. If only the product would do this, then I would give it 10 out of 10 but alas...

Put your sceptism aside and try it!



Was this review helpful to you?