Essence Stay With Me Longlasting Lipgloss
Essence Stay With Me Longlasting Lipgloss
Hot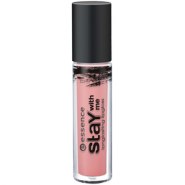 The name of this lipgloss could not be more appropriate: if you try it once, you'll never want to give it up again! the color-intensive texture is so wonderfully creamy and durable – without leaving a sticky feeling behind, that it's simply irresistible. the special shape of the precision applicator allows an effortless application. seven trendy colors are waiting to awaken those spring feelings and invite you to a creative styling session!
User reviews
The best part about this lip gloss is that you get a lovely high pigment colour with just two sweeps of this gloss, and the gloss is super creamy and stays for really long, it also doesn't leave lips with a sticky yucky kind of feeling, but rather leaves lips with a super glossy and cute look. Plus it's super affordable, how can you no?
I love this lipgloss because its cost effective, it sells for about R24 and i feel good after applying it. It also lasts longer, right now im rocking the forever rose and im loving it. I will definetly recommend it to anyone who wants a good lipgloss but on budget.
Essence Stay With Me Longlasting Lipgloss: 02 My Favourite Milkshake
I was immediately attracted to the colour of this gloss and of course the cute packaging and price. The colour is a soft peachy pink. I also adore the names of these glosses. This one is called 'My Favourite Milkshake'. It sounds so yummy and the scent is equally as delicious. A very sweet, candy smell welcomes you every time you open up this tube.

The applicator has a somewhat different shape to the normal doe-shape applicator I'm used to seeing. This is an hour-glass shape and I think it makes application easier. It glides on and fits perfectly into the corners so you can get an even application. However I do find this gloss quite thick and you can end up with gloopy bits on your lips. It's also quite sticky in my opinion so I constantly feel like I have gloss on. But it's true to it's word and it's long lasting and this gloss really sticks to your lips.

Ok so on to the colour itself. I was a bit disappointed with the pigmentation of this gloss. I was hoping for a bit more colour to show up but this is an almost nude gloss. I don't think all the colours are like this, but I do think the light shades are more sheer. It's a very pretty colour, but unfortunately I have to apply quite a bit for it to actually show up. That being said I still really like this gloss and I'm wearing it all the time. Also applied over a lipstick does make the colour pop a lot more.

Considering the price and all the other factors I would definitely purchase another colour from this range. They are just too cute to ignore.