Hugo Boss:The Scent Intense For Her EDP
Hugo Boss:The Scent Intense For Her EDP
Hot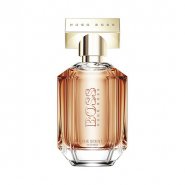 Hugo Boss introduces BOSS THE SCENT INTENSE, this new addition takes on the challenge of seduction to the next level. Infused with higher oil concentration, aphrodisiac notes and new ingredients, this new Eau de Parfum dominates the BOSS Women's sensory world by embedding an enduring mark in the seduction game. This new intensely seductive fragrance unfolds senses –light, sound and smell which intertwines key ingredients that lend THE SCENT INTENSE its potency. For her, the arousing aphrodisiac base of dark roasted cocoa is sharpened to enhance its unquestionably alluring power along notes of vanilla to enrich elegancy and sensual beauty.
User reviews
I LOVE Hugo Boss's fragrances for women. Show when a new one launched, I had to get it. The reviews on this scent was incredible and when I smelt it for myself, I almost died (good thing). I bought the biggest one I could find and started wearing it immediately but sadly, after an hour, all traces of this scent was gone.

I thought maybe it was just an off day or didn't put on enough so I kept using it daily in all different ways, even spraying some of it onto my clothing and the scent just dissipates into nothing. I am heart broken and devastated. The packaging is gorgeous and the scent is so unique and intoxicating, like a chocolate and mandarin dessert, I have never smelt anything like it. But unfortunately for me, it doesn't love me back...
Product Recommendation
Would you recommend this product to someone else?
No
Would you repurchase this product?
No