Avroy Shlain CRT Hydration Serum
Avroy Shlain CRT Hydration Serum
Hot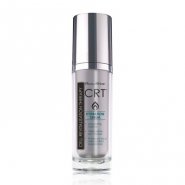 The CRT® Hydration Serum boosts   your skin's level of moisturisation, leaving you with smoother, younger and more radiant looking skin. This oil-free formulated serum also increases skins elasticity and smoothness. This  unique formula promises to visibly refine the skin's texture, leaving it plumper, smoother and hydrated. 
User reviews
Helping my True Beauty Shine!
(Updated: October 27, 2017)
I have been using this serum for just under a week now and I'm really happy with it so far! It spreads so well all over my face and gets absorbed super quickly by my skin. I can feel that it keeps my skin hydrated all day long without getting oily. I have combination skin so the fact that it doesn't make my skin super oily by the end of the day is a miracle.

My first impression of the product was good. I am not such a fan of the box that it comes in but the actual bottle itself is awesome. It pumps out just enough product for one application and the bottle is super sleek, modern and pretty. The serum itself doesn't have much of a scent but it feels amazing when you apply it to your skin.

I'll check in in a week or so and let you know how my skin is reacting to this awesome serum.

...


So I've been using the serum for almost two weeks now and I have to say that I am in love with this serum. My skin feels so soft, has cleared up and I can definitely see a huge change in the visible texture of my skin. It looks a lot more smooth and my pores have definitely become a lot less visible. I also love how it keeps my skin super hydrated without getting oily or shiny throughout the day. I am super excited to see how my skin will continue to change over the next few weeks! I'll keep you posted

...

WOW - this product has literally changed my life. My skin looks younger, feels supple and has completely cleared up. No more pimples and fine lines - its like a dream came true. I will definitely be making this product a staple in my daily beauty routine!

Thanks so much to Avroy Shlain for completely revamping my skin
Product Recommendation
Would you recommend this product to someone else?
Yes
Would you repurchase this product?
Yes