Aunt Jackie's Quench Moisture intensive Leave in conditioner
Aunt Jackie's Quench Moisture intensive Leave in conditioner
Hot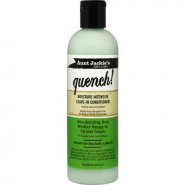 Leave-in conditioner specifically formulated for thirsty (dry) hair.
It contains Marshmallow Root, Shea Butter and Extra Virgin Olive Oil. This ultra-hydrating, deep moisture therapy for thirsty tresses helps to relieve your hair from dryness while retaining moisture for longer and keeping your hair soft and manageable.
Free from harsh sulfates, parabens, mineral oil and petrolatum.