Review Detail
4.4
7
0.5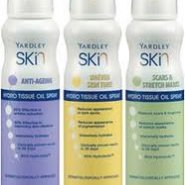 Moisturizers,Day Creams, Night Creams
March 05, 2011
154
I have been using tissue oil since the age of 15 for my eczema marks and sports injury marks. I had come across this product and decided to try it out. I found it to be less messy than most products but the results after a month was shocking. there was no change from the previous months.

The product left my skin more oily and it tend to make stains on things i touched there after.

I found this product unsatisfying.

Product Recommendation
Would you recommend this product to someone else?
No
Would you repurchase this product?
No
Comments