Yardley Conquest Regal Rebel Eau De Parfum
Yardley Conquest Regal Rebel Eau De Parfum
Hot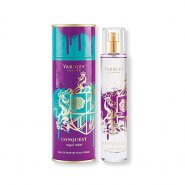 Yardley Conquest
Yardley's new quartet of fragrances comes in two formats: eau de parfum and perfumed body spray. Available in four variants, each offers a distinctly unique way to express yourself and discover the conqueror within.
Yardley Conquest Regal Rebel Eau De Parfum
Regal Rebel is fresh and floral for fierce individuals who march to the beat of their own drum; rebels with a cause who know exactly what they want and don't waste time getting it.
User reviews
Yardley Conquest Fragrances
Yardley Conquest Fragrances are really the girls they think they are. So refreshing, bold, authentic and they smell so good. Quality products that are affordable and smell expensive, I have found my fragrance Regal rebel and I am sticking to it. Try these fragrances you won't regret