Yardley Conquest Crown Ambition Eau De Parfum
Yardley Conquest Crown Ambition Eau De Parfum
Hot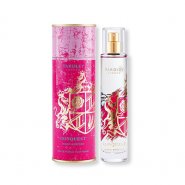 Yardley Conquest
Yardley's new quartet of fragrances comes in two formats: eau de parfum and perfumed body spray. Available in four variants, each offers a distinctly unique way to express yourself and discover the conqueror within.
Yardley Conquest Crown Ambition Eau De Parfum
Crown Ambition boasts notes of vanilla and red fruits for head-turning fashionistas with unapologetically unique style. Elegant with an edge, they carry themselves with poise and confidence because they know it's their destiny to rise.
User reviews
I was part of the chosen people to put the Yardley Conquest Range to the test. I must say going through the experience and participating through every challenge was enjoyable and a learning experience, the products are amazing and the scents last long which is something I specifically look for in a perfume or body spray not to mention that they smell amazing too. I would like to thank Yardley for this wonderful opportunity and they must carry on making kick-ass and affordable scents that ordinary people can get or buy ??????