Wet n Wild Fast Dry Nail Colour
Wet n Wild Fast Dry Nail Colour
Hot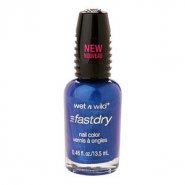 A range of affordable, fast-drying and highly pigmented nail polishes.
User reviews
Wet 'n Wild Fast Dry Nail Colour
For what it's worth, this product really dries fast. It lives up to it's claims. A few seconds and my nails are dry. But it only lasts about 3 days on my nails before it starts to chip away, which is about average for me. Colour payoff is great as it is highly pigmented. I like it.
I bought this some time ago when I was going through a black nail polish craze. I love how fast it dries. For the price you pay it's quite good quality.

If you want this to last long you would need a top coat.
Wet n Wild Fast Dry Nail Colour in Saved By The Blue
For what you pay, the colour pay-off of this nail polish is amazing. Wet n Wild Fast Dry Nail Colour in Saved By The Bell is a deep royal blue with a metallic finish. I love the Wet n Wild nail polish brush: it's longer than most and easy to use without wasting product. Its lasting power isn't bad either, if you wear it with a top coat. A great budget buy with vibrant colour!