TIP TOP Nail Chic - Melting Marshmallow (903)
TIP TOP Nail Chic - Melting Marshmallow (903)
Hot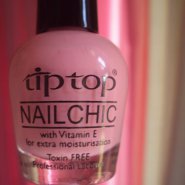 Tip Top Natural Nail Care began with the simple goal of making exceptionally high-quality natural hand and nail care products. With the wide range of nail products available, it is possible to have salon quality nails without costly and time-consuming visits to nail salons or nail spas. So simple to use, it makes regularly caring for your nails easy. Give Tip Top's unique and effective natural nail care line a try. With Tip Top's nail care product satisfaction guarantee, you have nothing to lose - except your frustration with the state of your nails.
User reviews
TIP TOP Nail Chic - Melting Marshmallow (903)
I received a Tip Top nail colour from The Beauty Bulletin to review for the site. The colour (903) is called Melting Marshmallow. This is the perfect pastel pink colour to wear with spring florals! These nail laquers contain Vitamin E, which moisturise and help keep your natural nails looking healthy. Completely FREE of toxins like Formaldahyde, DBP, Toluene and Camphor – this is a great nail colour that cares for your nails! I needed 2 or 3 coats of this colour, it was easy to apply, and consistancy of the laquer was great! It did take some time to dry, but has lasted quite long already and no chips or cracks are visible! I highly recommend Tip Top's Nail Chic Colours!