Sukin Blemish Control Starter Kit
Sukin Blemish Control Starter Kit
Hot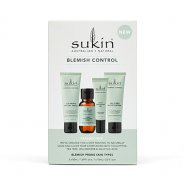 Sukin Blemish Control Starter Kit R259,99
Sukin is Australia's #1 natural skincare brand. It's vegan, cruelty-free, free of chemicals and mineral oil, and is greywater safe. Their brand-new range, Sukin Blemish Control, is a natural alternative to benzoyl peroxide that promises to get to work after just 30 minutes to fight the causes of breakouts.
Clearing Facial Wash 50ml
This lightweight gel cleanser combines eucalyptus, antibacterial tea tree, and antioxidant-rich pomegranate to purify skin while removing dirt, makeup, and other environmental pollutants, Eucalyptus helps to reduce the prevalence of blemish-causing bacteria on the skin and reduces the appearance of redness associated with breakouts.
Pore Perfecting Toner 50ml
This toner boasts a powerful infusion of bacteria-fighting eucalyptus, tea tree oil, and quince that works to purify and refine pores and skin texture. The quince acts as an astringent that helps limit skin shine, while willowherb helps to reduce the prevalence of acne-causing bacteria.
Oil Free Moisturiser 50ml
This lightweight formula keeps skin hydrated without added shine. A botanical blend of willowherb, quince, and moringa works to reduce the appearance of blemishes by refining skin texture. The willowherb aids in soothing breakout-prone skin and reduces redness associated with acneic skin. Moringa – an antimicrobial, non-comedogenic plant extract – hydrates the skin without congesting the pores, while quince works to limit skin shine.
Spot Banishing Gel 15ml
A blend of willowherb, quince, and salicylic acid works fast to fight the causes of blemishes in just 30 minutes! Put it on blemishes when you feel them coming on and continue to use as and when needed before applying moisturiser to banish blemishes, naturally.