Review Detail
4.7
16
0.5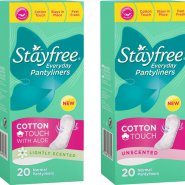 Feminine Hygiene
July 26, 2017
274
My 20 days with Stayfree everyday pantyliners.
The quality and the scent is great I really love it. I love how the individually wrapped pantyliners are easy to sneak into your wallet they are so discrete and cute.
The pantyliners came around the time I was having my period and I used them in combination with tampons and I felt confident knowing that I won't be having leakage accidents , after my period I spent a few days trying to get used to wearing pantyliners and honestly it was just not working out for me.
1. I'm not used to wearing pantyliners
2. It got uncomfortable for me to be wearing them everyday day.
I just hope I get used to them at some point but for now I just can't wear them everyday, all day.
Product Recommendation
Would you recommend this product to someone else?
Yes
Would you repurchase this product?
Yes
Comments