Review Detail
4.5
21
0.5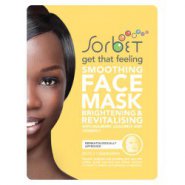 Face Masks
June 23, 2013
394
I am just going to start with the cons of this product. Firstly the price. Albeit not badly priced, I can get better sheet masks for much cheaper. The only reason I got these is because I happened to be in Clicks and they happened to have a 3 for 2 special. The other thing is how thick the sheet material is. It just won't adhere to the skin properly. My last complaint is how little essence you get. It states 23 ml, but I get way more from my other 21 ml masks. I am not sure if most of it is soaked into the thick sheet? How I like to mask is by applying the sheet on the 1st night and then following up with the left over essence the following night.

Now for the pros. I do enjoy the fit of the sheet as it covers my entire face. I also did not experience any irritation or negative reaction to the essence. I chose the Cleansing Spot & Oil Control mask, because Lord knows, we need all the help we can get during that special time of the month. After removing the sheet I did notice a really nice brightening effect.

The next morning my skin was positively radiant! I also noticed that my texture had really improved during the evening, but the thing that really impressed me was that I had one of those under the skin spots - you know those painful ones that don't come to the surface and refuse to go away. Well, I was shocked to find that it was almost completely gone.

I will therefore repurchase this specific mask, because I can look past all the negatives and look forward to the positives.
Product Recommendation
Would you recommend this product to someone else?
Yes
Would you repurchase this product?
Yes
Comments