Review Detail
4.6
67
0.5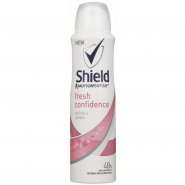 Deodorants, Powders, Sprays
March 16, 2016
299
Bursts Of Freshness, All The Time With Shield MotionSense
In all honesty, I am probably the most picky person when it comes to aerosols because my nose is very sensitive so products with really strong scents give me a headache.

When I used the Shield MotionSense, I was blown away by how good the smell was and also that I got through an hour of intense exercise. Even when I finished, my underarm was still dry and had a smell that reminded me of baby powder!

I felt that with every move I made there were fresh bursts of freshness and by the time I finished my workout, I could still smell it on me. This is really important for me because I feel that with most aerosols I just walk out the door and the smell is gone again but this wasn't the case and the protection factor really did live up to its name.

Thank you once again Beauty Bulletin for allowing me the opportunity to review and write about this product. There will be another short review on my blog tonight along with all the social media posts!

Would definitely recommend this to anyone who is interested and will rave about this to my friends and family.
Product Recommendation
Would you recommend this product to someone else?
Yes
Would you repurchase this product?
Yes
Comments