Sally Hansen Vitamin E Nail & Cuticle Oil
Sally Hansen Vitamin E Nail & Cuticle Oil
Hot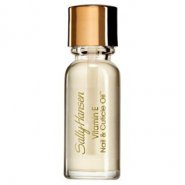 An essential oil blend with Vitamin E, Wheat Germ, Apricot Kernel, Aloe and Panthenol. Provides cuticles with intense moisture while conditioning dry, brittle nails. Prevents ridges and increases nail flexibility.
User reviews
Since im a no fuss woman, this product is not one for me.
Yes, its of great quality but i just cant seem to keep up with applying it long enough to see results.
Product Recommendation
Would you recommend this product to someone else?
Yes
Would you repurchase this product?
No
I've been using the nail and cuticle oil for about a week both, at night and during the day. I've already seen how my nails are becoming stronger and looking more nourished. I will definitely continue to use this product.