Review Detail
4.8
8
0.5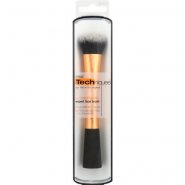 Applicators, Tools
January 23, 2017
156
Air-brushed Perfection
(Updated: February 03, 2017)
I have spent tons of cash updating my tools with the latest brushes and trends. I was still in need of finding a brush that felt like velvet but gave me the air brushed finish. I was introduced to the Real Technique brushes at a Make-up expo and fell in love with the results.

I bought myself the Expert Face Brush, The starter kit and the core collection kit from clicks. It set me back a good few pennies, well actually R1800-00 to be correct. I went home like a kid that god a ton of sweets, super excited and eager to play. I took them all out and analysed them in detailed.

I had tried each brush out with my different products, that I do have, I played for hours and each time i achieved an Airbrush finish with a soft velvet feel of a brush. I was so impressed i tried it on varies friends to see if the effect is the same. to my surprise... Yes... it was...

I don't regret buying them, it just takes a while of saving to buy all the brushes launched by Real Techniques.


They are worth the buy and the results speak volumes...

xoxoxo

Miss Wiss...

Product Recommendation
Would you recommend this product to someone else?
Yes
Would you repurchase this product?
Yes
Comments