Review Detail
4.6
182
0.5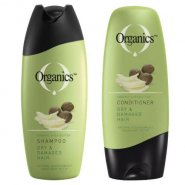 Shampoo
November 13, 2017
484
One of the best affordable shampoos and conditioners. It doesn't work miracles, but I do like that the Organics shampoos keep my oily scalp at bay (summertime mostly), doesn't reeeeally help to repair damage but if you are just looking for an affordable shampoo/conditioner on the fly or on a tight budget I would recommend this.
Product Recommendation
Would you recommend this product to someone else?
Yes
Would you repurchase this product?
Yes
Comments