Optiphi Classic Indulgent Treatment Facial
Optiphi Classic Indulgent Treatment Facial
Hot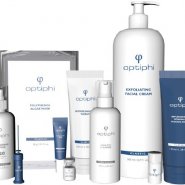 A luxurious, sensorial and innovative results driven professional facial treatment that targets and treats a multitude of skin concerns with the use of peptides, botanicals and active ingredients. This customizable facial is tailor made by therapists to address the specific needs of the client. It combines aroma, textures and sensations in an array of serums, masks and moisturisers for an optimal experience. Treatments selections are amongst Hydrate & Repair, Firming or Radiance options. The treatment includes a skin analysis, signature facial massage, deep cleanse, exfoliation, a fast-setting Polyphenol Algae mask and moisturizer.
User reviews
Indulgence is always a Classic
Wow, is all I can say. I experienced this luxurious but results driven facial at the Life Day Spa in the V&A Waterfront in CT. I have always loved Optiphi as a skincare brand, as I have found the brand to be innovative, active and nourishing.
It all went by in a relaxing and indulgent haze, but what you can expect is a completely curated experience. The therapist consulted me on my major skin concern, and being in my 40s, off course it was anti-aging. You can have your experience customized for your major concern such as dehydration, skin repair, radiance etc. The treatment is also a sensorial dream, as I received a selection of 2 aromas. I chose the open that had a lavender scent to keep within the scene of relaxation. (PS at Life Day Spa you can also choose the colour theme of your treatment room). The treatment uses peptides, botanicals and selected targeted active ingredients in array of serums, masks and moisturizers to deliver end results that are sublime. Expect very soft, smooth, plumped up skin at the end of the treatment with an overall feeling of inner wellness too!
My highlight was the fast-setting Polyphenol Mask which assisted in allowing my anti-aging serum that was pre-applied to penetrate deeper (see pic attached).
WOW, it was a fabulous experience, make a day of it & go use the spas facilities at your disposal i.e. Indoor Heated Pool, Steam Room, Relaxation Deck or RainShower!!
Product Recommendation
Would you recommend this product to someone else?
Yes
Would you repurchase this product?
Yes