NEW REVLON YOUTH FX™ FILL + BLUR PRIMER FOR FACE/NECK
NEW REVLON YOUTH FX™ FILL + BLUR PRIMER FOR FACE/NECK
Hot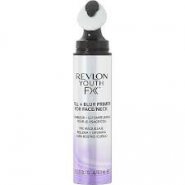 Specifically designed   to target face and neck wrinkles. Powered by an   innovative age corrective technology with micro-fillers and optical diffusers that works   to fill in plus blur lines and wrinkles. Its smooth-touch applicator in tear drop shape targets both large to small lines and wrinkles, allows for easy blending. Its 1 universal shade works for all skin tones.
User reviews
REVLON YOUTH FX FILL + BLUR PRIMER FOR FACE/NECK
I purchased this product for R215.00 at an Edgar's store . This product did minimize the size of very few pores near my nose area that were hardly noticeable .Overall I did not notice any significant change in the appearance of my skin as it promised "immediately smooths skin's appearance". It does however give your skin this amazing velvet feel but you do not physically see the difference. It does have a matte finish as promised. I used a very small amount every day and it lasted just over one month. The packaging looks really good and I like the pump as the tiny holes help reduce wastage.I was disappointed and feel it was over priced,did not last as long as I expected and really did not give me the smooth appearance as promised nor did it minimize my large pores.
Product Recommendation
Would you recommend this product to someone else?
No
Would you repurchase this product?
No