Review Detail
4.6
58
0.5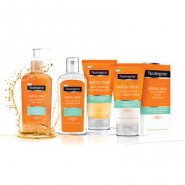 Acne and Blemish Creams
July 12, 2017
611
Neutrogena Spot Proofing Range First Impressions
First Impressions

As soon as I received these products I fell in love! The packaging is so bright & fun, it gets you excited to stick to your skincare routine!
The products smell so lovely. They have a bit of a medicinal citrus type smell, which makes you feel like they're really going to do wonders for your skin, without being too overwhelming & still have a very pleasant scent.
When I think of spot Proofing ranges I'm always scared that they might dry out my skin as I have combo/dry skin, but these products didn't dry out my skin or make my skin feel tight like many other skin care products do.

So far I'm loving this range, and I can't wait to see how my skin will improve over the next few weeks!
Product Recommendation
Would you recommend this product to someone else?
Yes
Would you repurchase this product?
Yes
Comments