Review Detail
4.4
17
0.5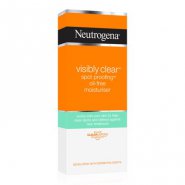 Moisturizers,Day Creams, Night Creams
July 12, 2017
186
Out of all of the products in this range I must say this might be my favorite one.
I've been using this every day for a week & my skin is feeling moisturized and so smooth!

I was slightly apprehensive when I first saw that this is an oil-free moisturizer, as I have combo skin that tends to be on the dry side, but this is so moisturizing you wouldn't even notice the difference! My skin feels noticeably smoother & looks more even and youthful. I don't get shiny during the day, and it keeps my skin moisturized through out the night as well so I don't wake up with tight dry skin either.

I'm excited to see how my skin will improve over the next few weeks of using this product!
Product Recommendation
Would you recommend this product to someone else?
Yes
Would you repurchase this product?
Yes
Comments