Review Detail
4.3
26
0.5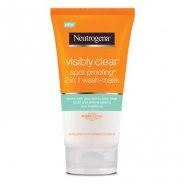 Face Masks
July 12, 2017
215
NEUTROGENA NECTAR, HONEY!!
The price point of Neutrogena is a bit expensive for your typical "drugstore" product. The range retails for about R121,00 which can seem pretty unaffordable. One thing I can say though, is that it DEFINITELY works. I don't have acne prone skin but I have broken out during season change and this is literally the product I always run to.
If used twice a day, in conjunction with a good toner, it literally clears your skin in about two weeks. It removes pigmentation and pimples.

Neutrogena is a God-sent for us girls with oily skin & she's definitely the girl she thinks she is. 10/10, definitely would recommend.
Product Recommendation
Would you recommend this product to someone else?
Yes
Would you repurchase this product?
Yes
Comments