Review Detail
4.3
26
0.5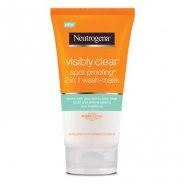 Face Masks
July 12, 2017
215
Looking for a price friendly product to clear out spots and breakouts?
I have been using the neutrogena spot proofing product for about two weeks and I'm quite happy that I came across this product after months of jumping from one product to the other in the hope of removing spots and breakouts .
I really like the effectiveness of this product literally applied this for a week using it twice a day as a wash and mask twice a week and I could notice the elimination of spots as well as breaks outs and also I like how smooth and supple this product feels on your skin it doesn't cause any irritation or dryness .. My skin care have been felt this better ..
Tip : try to incorporate this with any hydration products since it's winter we all need that glow
#neutrogena
#clearskin
#skincare
Product Recommendation
Would you recommend this product to someone else?
Yes
Would you repurchase this product?
Yes
Comments