Review Detail
4.3
26
0.5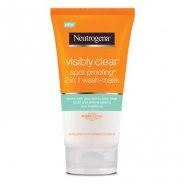 Face Masks
July 12, 2017
216
I purchased this product for the first time about four months ago as i love the neutrogena skincare range. I was really impressed by it and i definitely noticed a huge difference in my skin. I battle with blocked pores and blemishes, so the salicylic acid was a major plus for me. I usually purchase different cleansers and move on before ive finished a product however in this case i used the product until it was finished and then proceeded to purchase a new tube of it. I absolutely adore this product and recommend it to anyone who suffers with blemishes and/or blocked pores like me. Its hard to find products that actually work, so this one is a serious keeper!!
Product Recommendation
Would you recommend this product to someone else?
Yes
Would you repurchase this product?
Yes
Comments