Review Detail
4.3
26
0.5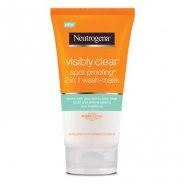 Face Masks
July 12, 2017
216
Neutrogena Visibly Clear Spot Proofing 2 in 1 Wash-Mask
I probably started using this products 2 months ago and I'll be hooked for life.

I've always heard that Neutrogena was one of the best drug store skincare brands but the price always put me off.

One day I went into clicks and it was marked down so I just had to buy it.

I've noticed the difference almost immediately.

I always thought that I get random breakouts from diet, makeup or hormones (the time of the month) but after using this face wash I noticed I wasn't breaking out during my period anymore and if I did get a bump here and there it would minimize in size real quick.

Days I skipped washing my face out of pure laziness I went back to breaking out here and there. So with consecutive usage my skin remained clear.

Also I'm not big on foaming face washes, this is really creamy, has a clay like consistency.
It's also a mask, so some days you can just apply it to your skin, leave it for a few minutes and wash it off.

I've literally raved about this product to family and friends.
Product Recommendation
Would you recommend this product to someone else?
Yes
Would you repurchase this product?
Yes
Comments