Review Detail
4.3
26
0.5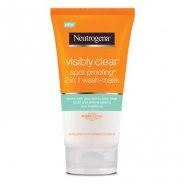 Face Masks
July 12, 2017
216
It's been about a week since I started using the Neutrogena Visibly Clear product range, and I'm some what happy with the results so far. I purchased the 2 in 1 spot proofing mask and wash, the facial wash I the pink grapefruit facial wash as well as the pink grapefruit daily scrub.

I must say literally after my first wash I started noticing a difference in the appearance of my spots. The very recent spots that I have started to look a little more faint than the day before. The only problem I'm experiencing so far is a that in certain areas like under my eyes, my temples and corners of my mouth, my skin is feeling a little dry and tighter, almost as if it'll start peeling. I figured that it could be caused to the fact that I used the 2 on 1 mask and wash twice daily and it's a pretty strong product. Either than that Neutrogena has really made me happy so far. Great results

I also like the refreshing scents the products have, leaves you feeling clean, relaxed and refreshed.
Product Recommendation
Would you recommend this product to someone else?
Yes
Would you repurchase this product?
Yes
Comments