Review Detail
4.3
26
0.5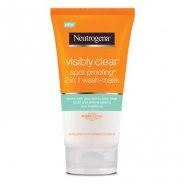 Face Masks
July 12, 2017
216
NEUTROGENA® VISIBLY CLEAR® Spot Proofing™ 2in1 Wash / Mask
I love using masks and I'm always buying different brands to find what best suits my skin. I received my Neutrogena package and was ready to dive right into it, at first my skin started to break out but I stuck it out and in week three I started to see a dramatic difference. after each use, my skin would be smooth to the touch and my acne improved.

I would really recommend this mask to everyone because it really works, you just have to stick it out till you see a difference.
Product Recommendation
Would you recommend this product to someone else?
Yes
Would you repurchase this product?
Yes
Comments