Review Detail
4.0
15
0.5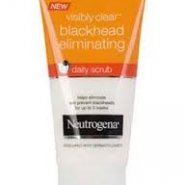 Cleansers,Toners,Washes
May 29, 2013
169
I love the fact that it is gentle enough to be used daily. This scrub does wonders as I had a problem with blackheads and noticed a change in my skin after just 1 week. This is a popular established brand and Neutrogena never dissapoints me. I use other products of this brand as well ?
Product Recommendation
Would you recommend this product to someone else?
Yes
Would you repurchase this product?
Yes
Comments