Nature Box Coconut Range
Hot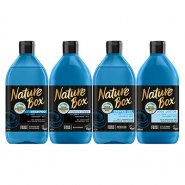 Coconut oil has soothing properties and provides intense hydration.
Each variant contains cold-pressed oils that are neither refined nor processed, meaning they're bursting with valuable vitamins, like A, B, C, D, and E, as well as healthy fatty acids and antioxidants.
Nature Box's cold-pressed oils protect the skin from drying out, whilst nourishing and refining to leave both skin and hair touchably soft. What's more is they're also totally free from silicones, artificial colours, sulfates, and parabens – leaving you with beautiful skin and hair, naturally!
Their tried-and-tested formula ensures that hair and skin are protected and treated by an almost invisible film of cold-pressed oils – no grease, no worries. And you can use their products with peace at heart – Nature Box is dedicated to creating sustainably and ethically so you can experience the power of Beauty Positivity: Knowing you are doing something good for yourself and the world's future.
Get yours nationwide from Dischem, PnP, Clicks, Checkers and Takealot.
The Coconut line for deep moisturisation:
Coconut oil has soothing properties and provides intense hydration.
Coconut range comprises the following items:
Shampoo 385ml R119.99
Conditioner 385ml R119.99
Shower Gel 385ml R69.99
Body Lotion 385ml R99.99