L'Oreal Elvive Extraordinary Oil-In-Cream
L'Oreal Elvive Extraordinary Oil-In-Cream
Hot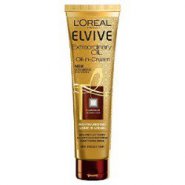 The Elvive Extraordinary Oil-In-Cream allows you to experience the nourishing feeling of extraordinary oil but in a lightness of a cream. It has six luxurious flower oils and can be used on wet hair as heat protector or a leave in conditioner for the extra nourishment.
User reviews
I am inlove with this product... It gives my hair life ..makes it feel soft and it smles amazing . I do t strougle with dry hair anymore and i have only been using this for 2 months now
Loreal Elvive Extraordinary Oil in cream
I bought this product because I was so impressed with the shampoo and conditioner so naturally I just had to try this .
I am a lover of heat protectors as I use my hairdryer and straightener very often .

This product can be used in various ways to assist in keeping your hair looking and feeling healthy and shiny and well nourished .

I mostly use it as a heat protector and I love how my hair has less split ends now more than ever before . My hair still feels smooth and glossy even after applying all that heat .
You can feel your hair is still hydrated and does not have that coarse dry feeling any more .

Also if you tend to have fly aways this can be used as a serum to tame them and keep them all in place or alternatively you can use it just as a leave in treatment to keep your hair deeply nourished .

I for one cant help but constantly say how wonderful and amazing this entire range is .
Product Recommendation
Would you recommend this product to someone else?
Yes
Would you repurchase this product?
Yes