Justine Satinfinish Complexion Corrector SPF20
Justine Satinfinish Complexion Corrector SPF20
Hot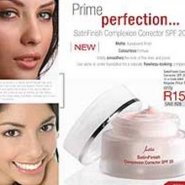 User reviews
I love this perfertor, it is honestly amazing. As the previous review said, Avon has its only primer which i enjoyed using but i found the Justine product is much more thicker and i use much less. If considering that it is nearly priced the same as the Avn product i would def go for the Justine product.

I only use a little to achieve the most beautiful skin and wow i love the silk feeling you get without your skin drying out...
Thanks Justine for delivering such quality amazing great products...
I am not a fan of base every day as my make-up routine needs to be very streamlined to get two kids and a hubby up and ready in the mornings and still get myself ready for work! I dont have time to primp in front of the mirror at all. I have tried a few primers and love the Avon Magix skin perfector as it achieves a matt, smooth type look without the effort.

Justine has just brought out their own primer and I was excited to try it! This formula comes in a lovely little jar and it smells gorgeous! Very slight chocolatey, shea butter type scent ( reminiscent of Palmer's), so be warned those of you who dont like scented goodies on your face. But that scent doesnt linger anyway :( It looks peach-coloured in the pot, which goes colourless on the skin. What I dont love the texture of this primer... it doesnt feel silky, more like there are some odd little granules in it for some strange reason! Once applied though, those do disappear and it really does leave skin looking matte and smooth. I had a compliment on my skin while wearing only this and this was at the END of the day! Apparently I have perfect skin haha!!! Not really!!! But this product does give the illusion of nice skin and blurs out pores and fine lines. Would probably look fab under foundation although I have not had time to experiment with that lately!
I am not sure if I prefer a pot or a tube... Avon's one in a tube is great for hygiene, but not so easy to squeeze towards the end. Not so hygienic in a pot, unless you use a little spatula, but it looks nicer and you will be able to scrape out the last scrap of product!
This product is on special this month, so give it a try!!