Review Detail
4.8
5
0.5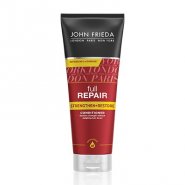 Conditioners
September 16, 2015
95
Strengthen + Restore Conditioner
Like every good hair repair kit you need a great conditioner moisturize your hair. This conditioner is amazing and even just after using it my hair felt ten times better. The conditioner really moisturizes and repairs at the same time.
Product Recommendation
Would you recommend this product to someone else?
Yes
Would you repurchase this product?
Yes
Comments