GynaGuard Essential Wash
Hot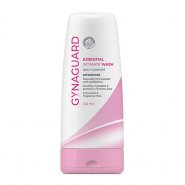 GynaGuard Essential Wash
The go-to GynaGuard for people who aren't prone to infections. Ideal for everyday freshness that won't cause dryness or irritation. Plus, its gentle formula is specially formulated with added probiotics to help reduce vaginal malodour
GynaGuard Ultimate Wash
Created for those who are prone to infections, on antibiotic use or needing to control malodour. Packed with prebiotics and probiotics, the Ultimate wash works to assist against irritation, itch, and odour. As with all GynaGuard products, its super mild formula promises to leave users feeling fresh and confident.
GynaGuard Daily Comfort Sensitive Wipes
A pack of 12 wipes that can be used to delicately cleanse when on the move (road trips, camping, between a busy schedule, etc.). These fragrance-free wipes are infused with aloe barbadensis, chamomile, and witch hazel to cleanse, moisturise, and soothe as needed.
User reviews
I highly recommend this product for daily use, it is so gentle yet effective! I feel fresh and clean after using this product I don't feel any dryness and discomfort you can actually feel that it's hydrating and soothing. I'll definitely repurchase this product!
GynaGuard, My New Essential!
Intimate care is so important and with GynaGuard it is their top priority. I have been using the Essential Intimate Wash from GynaGuard for the last 3 weeks and I can say that this product has exceeded my expectations. As an individual who suffers from vaginal pH imbalance which results in vulgar odours, it has been a great balancing agent. This product is so gentle and does not irritate my sensitive intimate areas. After use, I feel fresher and more confident to continue with my daily activities.