Review Detail
4.6
7
0.5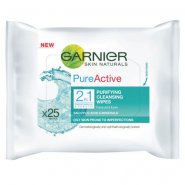 Cleansers,Toners,Washes
April 03, 2017
171
Garnier Pure Active Purifying Cleansing Wipes
I love love love these wipes. When I am taking off my make up, I don't just want it off, I also want my skin to get a bit of cleansing action.

My make up comes off, even the waterproof eyeliner and mascara. My eyes don't get irritated.

Usually one is enough to take off the day's face without having to reach for a second wipe.

They feel soft on my face, no scratchy feeling at all.

If the micelar water and the pure range generally work for you, these wipes will make you and your face happy.

The price is nice.
Product Recommendation
Would you recommend this product to someone else?
Yes
Would you repurchase this product?
Yes
Comments