Review Detail
4.6
13
0.5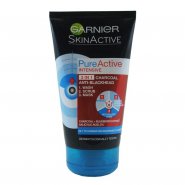 Cleansers,Toners,Washes
April 28, 2017
251
Garnier Pure Active Intensive 3-in-1 Charcoal Anti-Blackhead cleanser
The one thing I did love about this product was the mask. It removed oil from my skin and made it feel super smooth and soft.

However, it did nothing to help remove my black heads or clear my pimples.
Product Recommendation
Would you recommend this product to someone else?
Yes
Would you repurchase this product?
No
Comments