Thomas Sabo Charm Kiss Eau de Parfum
Hot
January 20, 2015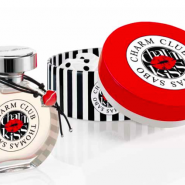 Product Info
Where to Buy
Available at Stuttafords and selected Edgars, Red Square, Foschini, Truworths and Clicks.
Retails from R795 each (50 ml EDP)
A soft fragrance with fresh strawberries, tantalising champagne, apples and berries, with nuances of jasmine, violet, freesia and plum that creates the soft middle notes. Exotic Benjamin resin, sandalwood, musk and Madagascan vanilla perfectly support the dark chocolate base note of the fragrance, and lingers all day long
User reviews
Thomas Sabo Charm Kiss EDP
Oh what a kiss!! Thomas Sabo really created something unique in this flirtatious fragrance. In fact it's so unique, I can't quite put my finger on it because there are so many delicious smells that all morph into one complex exotic scent. I've tried to discern the different fragrances and I got strawberry, vanilla, tropical fruit and a citrus-cy undertone (with a hint of musk). See, very confusing, but oh so delicious!
At first, I wasn't sure if I was a fan of this fragrance and even considered re-gifting it as it seemed totally opposite to the fragrances I tend to favour, but after it softened on my skin, I had to say "Oh, WOW!"
It had a soft, lingering fragrance that I could still smell on my inner elbow hours after application. It certainly has longevity, but is by no means overpowering.
I would recommend a visit to the perfume aisle for a tester spritz on your pulse points (inner elbow, wrist and behind ears) so that you can decide whether it's for you, but I can almost guarantee that you'll be back for that gorgeous fragrance. It's very sexy and you're sure to be complimented.
By the way, the packaging itself is quite unique too. The bottle looks like a retro-style vial from the 1950's, has a small lip pendant hanging around it and lays snugly encased in a round hatbox-type container with a white polka dot satin interior. Very special and perfect as a gift – no wrapping required!

Was this review helpful to you?
A kiss in a bottle - perfect for Valentines Day!
I am very skeptical when a brand known for one area of expertise ventures into another. Thomas Sabo is known for delicate, elegant charms and I was a bit like 'mmm, another novelty scent' when I heard about the launch, but exactly what happens with a first kiss, I was won over.

Before I even took off the cap to take a whiff, I was enchanted by the beautiful bottle, encased in a round box, on a bed of pink satin, embellished with a charm, of course. It was ... well, romance at first sight, because looks matter, hey.

But then I got mesmerised by the complex, yet soft notes combined into one tiny bottle: when you smell the fragrance at first, you are charmed by notes of strawberries, berries and even a hint of champagne and crisp apple - pretty much the perfect romantic date summed up in a palette of fragrances.

When you spritz the fragrance onto your delicate wrist, the romance suddenly intensifies and gets a tad darker, as all relationships do ... the exotic middle notes of dark chocolate and vanilla breaks through to ensure you that this is not going to be a frilly, innocent affair ...

and right before you are about to write this fragrance off as a 'one spritz stand', the final notes of comforting resin, sandalwood and musk pop up to assure you that this scent is not an affair to forget.

To explain my experience in layman's terms instead of Mills and Boons mockery for those non-romantics among us: it's a beautiful fragrance. If you are looking for something that captures your girly spirit, but lingers into the elegant woman you're meant to be, this is it.

*starts saving up the cash monies and hinting to the boyfriend to get me this*

Peace, love, and ... a Thomas Sabo Charm Kiss,
Marelize
Was this review helpful to you?