Night time seduction
Hot
October 08, 2013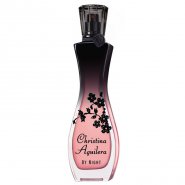 I really enjoy using this fragrance, it is perfect for day or night usage. The top notes are fruity and these include warm apple and tangerine, so it is quite a sweet, musky scent. It is an appealing edible sweet, aroma with a slightly walnut scent too. The bottom notes are blossom, vanilla and peach ,which again are fruity and floral but are gradually giving off a deeper,more sensual scent.
User reviews
Christina Aguilera By Night
This is by far my favourite Christina Aguilera fragrance. It has an appealing playful seductiveness that is hard to resist. This scent marries warmth and intensity for a sensual appeal, with sweetness for femininity.

This celebrity fragrance is an oriental fruity blend. Its top notes are tangerine, red apple and freesia, enhanced by sensual elements of aphrodisia like almond. These fruity floral top notes playful tantalise the senses before they pave way for the middle notes to kick in. These middle notes, which are the heart of the perfume, are vanilla flower, punctuated by flirty peach and May blossom. These notes further enhance the subtle seductive power of the fragrance. The base notes are amber and black vanilla, giving the perfume a powerful sexy finish.

This fragrance comes in a red stained sexy bottle shaped like the female form adorned with black lace. This really fits well with the seduction theme the fragrance is aiming for. The perfume is not overpowering and it lasts longer. The longevity can be increased by layering the scent with the accompanying body care collection (wash, lotion, spray). A major plus is that it is reasonably priced.

Was this review helpful to you?
Own the Night
Overall, these notes work really well to create a musky, sexy scent, it's very feminine and sweet but at the same time it is not sickly or overpowering. It's not too overpriced and it has lasted me for months.
Was this review helpful to you?