Review Detail
3.8
9
0.5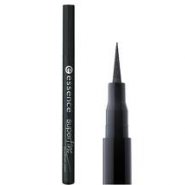 EyeLiners
December 03, 2013
129
This eyeliner has the nicest APPLICATOR. Felt-tip and thin, perfect for a quick winged liner. I used to be amazed by how quickly it did my eyeliner in the morning. The only issue is it flakes during the day and smudges everywhere if you have oily eyelids like me. Not sure if an eyelid primer helps. The waterproof version is only slightly better but it also smudges everywhere and is decidedly NOT waterproof. Not a long-lasting product, so despite loving the applicator, I had to stop using it to avoid the raccoon-eyes/hungover look.
Product Recommendation
Would you recommend this product to someone else?
No
Would you repurchase this product?
No
Comments