Review Detail
4.1
31
0.5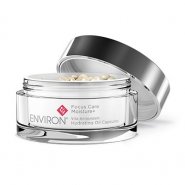 Eye Creams,Serums
October 25, 2018
521
Environ Focus Care Moisture+ Vita-antioxidant hydrating oil capsules
Description
"Enriched with retinols and antioxidants, Focus Care Moisture+ Hydrating Oil capsules offers dry and dull skin a burst of hydration."

Key Ingredients
Retinol (vitamin A)
Ascorbyl tetraisopalmitate (vitamin C)
Tocopheryl acetate (vitamin E)
Dimethylmethoxy chromanol (Lipochroman – vitamin E)
Rosmarinus Officinalis (rosemary) leaf extract
Camellia Sinensis (green tea) leaf extract
Beta sitosterol

How to use it
Pre-cleanse, cleanse and tone with your preferred products
Apply the contents of one capsule and gently massage into the skin as your evening moisturiser
Alternatively, mix the contents of one capsule with your recommended vitamin A moisturiser or apply over your usual moisturiser.

My experience

Packaging
This oil comes in capsules, another innovative way to preserve active ingredients. I love this type of packaging as this also ensures that you use the perfect amount of product, so no wastage.

Scent
There was something about this scent that had a whiff of a calming herb to it. I then had a look at the ingredients and realised that the rosemary extract leaf could be the reason for this.

Texture
This oil feels like a silicone but isn't greasy at all. I love that it doesn't feel too heavy on the skin and sinks in gradually.

My thoughts
I received 10 capsules and applied this after using the revival masque. I always use oil in my skincare regimen so I was excited to see how my skin would react to this one. I was super impressed because my skin looked plumper which means it definitely worked in terms of moisturising the skin. I can't say that I've noticed a huge difference with the fading of the pigmentation of this one spot I have. I think a product like this one needs to be used over an extended period in order for one to see a dramatic difference.
Product Recommendation
Would you recommend this product to someone else?
Yes
Would you repurchase this product?
Yes
Comments