Dr Organic Moroccan glow self-tan mousse
Dr Organic Moroccan glow self-tan mousse
Hot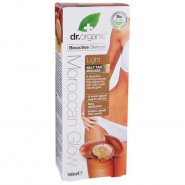 Dr Organic Moroccan glow self-tan mousse is a bioactive tanning mousse with easy application and contains 70% organic ingredients such as argan kernel oil, aloe vera leaf juice and roselle flower extract.
It is free from parabens, petrolatum and glycols.
Available in light, medium and dark. 
Directions
For an even tan exfoliate first paying attention to elbows, knees, ankles and feet  
Use product once a week as a natural tanning treatment for increased results use a tanning mitt and sweep from top to toe in upwards motions
Wash palms with soap and water thoroughly after use
Wait for 5 minutes before getting dressed 
User reviews
A great natural & glow tan!
Again, this product works so well with its exfoliator.
It also smells divine - like cinnamon!

Its easy to use nozzle, makes for quick application, and great results.

Im so impressed with this product and i LOVE that its full of natural & organic ingredients.
After i first applied it, the tan wasn't as strong as i thought it would be. ( If you want more of a dramatic tan, just apply more layers)

After a couple of hours passed, i could see it start to settle, and the tan was darker, but still natural and made my skin glow and feel so fresh.

A true Moroccan glow tan, which is easy & quick to use, and that i would highly recommend!
Product Recommendation
Would you recommend this product to someone else?
Yes
Would you repurchase this product?
Yes