Review Detail
4.7
22
0.5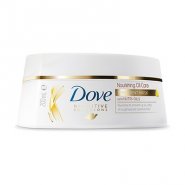 Treatments, Masks
May 09, 2018
192
There's honestly nothing better than receiving the same treatment from a product that costs a fraction of the price than that of its counterpart. I say this because I've always thought that salon treatments masks work better than the ones from the clicks and dischem and man have I been proven wrong. This thickly whipped goodness that's enriched with Weightless Nutri-Oils and vitamins E and F, does exactly what it claims to do. It leaves the hair feeling remarkably soft, to a point where you won't experience any detangling. I mean Zero Knots! The nutritive solution range has done wonders for my hair so far and I'm honestly so impressed. I can't wait to see what it does for my hair with continuous use.
Product Recommendation
Would you recommend this product to someone else?
Yes
Would you repurchase this product?
Yes
Comments